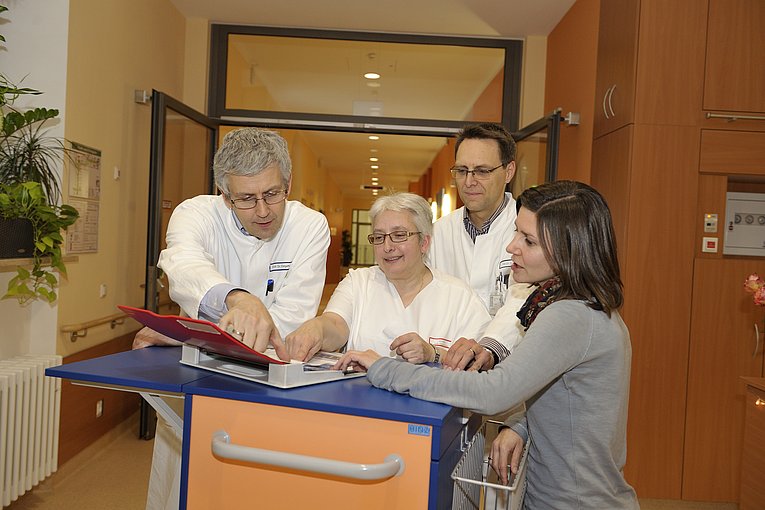 Project 'PALLADiUM': Palliative Care as a Digital Working World
Perspectives and Design Possibilities of the Digital Transformation of Communication and Collaboration Processes in Multiprofessional Care in the Last Phase of Life (Prof. Dr. Henner Gimpel, Business Informatics; Prof. Dr. Werner Schneider, Sociology; Prof. Dr. Christoph Ostgathe, Palliative Medicine) - Start of Project
Palliative care focuses on people in their last phase of life. 'PALLADiUM' analyses and designs the digital working world of palliative care, which is traditionally a working world remote from technology and digitalisation. Palliative care is characterised by a professional self-image that is based on interpersonal care. The primary goal is not prevention or cure, but to minimise suffering in all its facets - physical, psychological, social and spiritual - within the framework of holistic care. The field of work is accordingly characterised by intensive multi-professional cooperation. At the core of the project is the design of a digitally-supported work system to improve the collaboration of professionals from the various professions involved. The comparatively low level of digitisation in palliative care represents an outstanding opportunity to conduct prototypical research into how information and communication technology and digitisation processes can be designed at an early stage and which working conditions and competencies must be created to enable acceptance and confident use of digital technologies. In particular, it must be clarified which AI-supported approaches are suitable for making structured and unstructured data in palliative care more usable for communication and collaboration processes.
'PALLADiUM' combines three disciplinary perspectives: Medicine in particular contributes domain knowledge, sociology the understanding of social processes in the production and communication of knowledge in the interaction of medical, nursing and therapeutic staff, and business informatics the technological competence paired with human-machine interaction and collaborative IT-based work. In the interdisciplinary interaction, care-relevant knowledge and artefacts (work system design, functional demonstrator of an AI-based assistance system) are created for the working world of palliative care, but also for other working worlds in health care and nursing, which follow similar logics and challenges (person-centredness, multi-professional cooperation, heterogeneous information and knowledge as well as competence situations, etc.).

Regular exchange with the associated partners and international experts (Dr. Irmtraud Hainsch-Müller and Dr. Christoph Aulmann, Palliative Care Unit of the Interdisciplinary Centre for Palliative Medicine, University Hospital Augsburg; Benno Bolze, German Hospice and Palliative Association; Franziska Kopitzsch, Coordination Office for Hospice and Palliative Care in Germany; Dr. Julia von Hayek, Management of the Centre for Hospice and Palliative Care, University Hospital Augsburg; Dr. Julia von Hayek, Management of the Centre for Hospice and Palliative Care, University Hospital Augsburg). Julia von Hayek, Management Centre for Interdisciplinary Health Research, University of Augsburg; Dr Mary Rabbitte, All Ireland Institute of Hospice and Palliative Care, Dublin; Prof. Dr Till Winkler, Fern Universität in Hagen and Copenhagen Business School) ensures the generalisability and practical relevance of the findings.
The project started on 1 April 2021 and is funded by the Bavarian Research Institute for Digital Transformation (bidt) for a period of three years, including an interim evaluation.